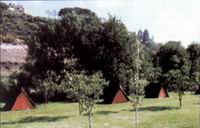 3000m2 is reserved for camping purposes for individuals, families, and groups at the Barouk Palace Hotel. This space is equipped with restrooms, hot/cold water, and barbecue stands.
Camping equipment is provided for a small fee but campers are also allowed to bring their own camping equipment if desired.
Closed temporary for renovation.